Hotel Bel Air
Viale Regina Margherita, 14 - Marebello
Services:
Veggie and gluten-free
All inclusive
Hotel Bel Air
SUMMER BEACHFRONT CHILDREN FREE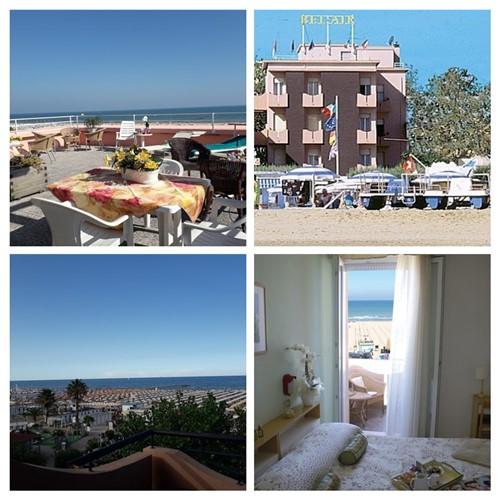 Hotel Bel Air Rimini - directly on the beach
You can block your holidays
NOW
with a 10% discount on the price list
22 May 29 May 290
29 May 12 June 345
12 June 26 June 390
26 June 31 July 480
31 July 7 August 510
Prices are per
person for 7 days all-inclusive
You can use YOUR
HOLIDAY BONUS with usALL-INCLUSIVE INCLUDES:
Full board (breakfast, lunch and dinner)
Exquisite cuisine with 2 choice menus, desserts and homemade pasta.
Children's menu, high chairs and cutlery
Buffet of appetizers and cooked and raw vegetables
Water, wine, cola and orange juice with meals according to desired consumption
Varied and abundant sweet and savory breakfast
Rooms with: air conditioning, balcony, TV, free WIFI, safe
Bathrooms with shower, hairdryer, courtesy service
Panoramic solarium terrace overlooking the sea, accessible to all at any time of the day
Direct access to the beach from the garden without crossing roads
Beach service: 1 umbrella and 2 beds per room, cabins, games, showers, relaxation area
entertainment on the beach for adults and children.
Possibility of the meal also on the beach or in the room
Free admission every day for the whole family to the Beach village water park with swimming pools, water slides and entertainment
Free parking
Children's play corner
Enclosed garden with large and quiet space for relaxation
Near the hotel there is the Metromare stop which allows you to easily reach the center of Rimini and Riccione in a short time
NEW 2021
Online newspapers and magazines / To download at the hotel and read wherever you want on your smartphone, iPad, computer
Natural and sparkling water for free consumption throughout the day, even between meals
Even tastier and richer breakfast with many sweet and savory products and above all coffee beans in addition to decaffeinated, ginseng, barley and much more to start the day in the best possible way
For the little ones even more games in the outdoor area, strollers available at reception, lights for the night, bath tubs, cots and side rails as always and above all hot milk with biscuits before bedtime
Use of a beach towel
Your 4-legged friend is well received in our hotel. His stay is free.
Upon arrival, you will find a complimentary bowl.
The walk-in garden next to the quiet promenade behind the hotel and the roadless, car-free beach
In the hotel, an area of the restaurant is reserved for those who wish not to get away from their 4-legged friend.
On the beach it is possible to go freely with your dog in the early hours of the day and in the late afternoon, while during the day he can stop with you under
info@hotelbelairrimini.com 340-9993510 whatsapp / telegram / signal
Ask for information
Further offers from this hotel