Hotel Bel Air
Viale Regina Margherita, 14 - Marebello
Services:
Veggie and gluten-free
All inclusive
Hotel Bel Air
BLOCK YOUR HOLIDAYS IN AUGUST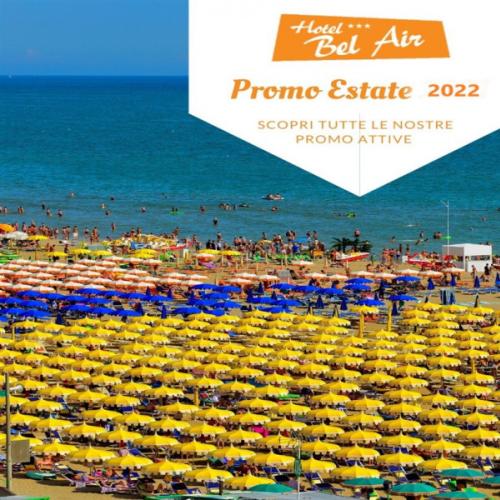 Hotel Bel Air Rimini
3 stars directly on the beach with parking
You can block your holidays in August BY CHRISTMAS
with a 10% discount on the 2021 price list

31 July 7 August € 490

per person for 7 days
all inclusive treatment
in room with 2 adults
1 child up to 6 years (not included) free
1 child up to 16 years (not included) 50% discount
2 children up to 6 years = one free 50% discount
2 children from 6 to 16 years = 1 fee
ALL-INCLUSIVE
:
Full board (breakfast, lunch and dinner)
Kitchen with 3 choice menus / Romagna menu and fish menu
Buffet of appetizers and cooked and raw vegetables
Water, wine, soft drinks with meals
Natural and sparkling water for free consumption throughout the day
Panoramic solarium terrace overlooking the sea, equipped accessible to all at any time of the day
Direct access to the beach from the garden gate without crossing roads
1 umbrella and 2 sunbeds per room on the beach,
Free admission every day for the whole family to the Beach Village water park with swimming pools, waterslides and entertainment
Reserved parking
Contact us for a personalized quote !!! We are waiting for you!!!
Marina Ezio and family
info@hotelbelairrimini.com 340-9993510 whatsapp / signal / telegram
Ask for information
Further offers from this hotel