Hotel Ombretta Mare
Via Rapallo, 17 - Marebello
Services:
All inclusive
Animation
Hotel Ombretta Mare
Offer sea Rimini hotel in September agreement with all parks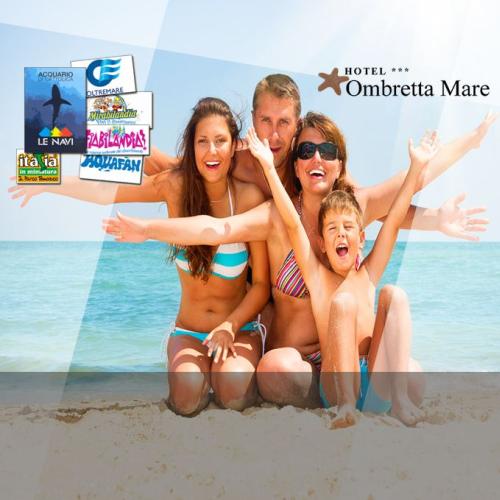 From
€ 322
per week / per person
SPECIAL SEA OFFER OF SEPTEMBER + PARKS
To say goodbye to summer, we offer you the sea, the sun and ... amusement parks in one solution!
SPECIAL STAY with children free up to 6 years + amusement parksRimini in September
is ideal for the holiday of the whole family!
NO AFA, NO CONFUSION ... clear days and a little fresher air, zero traffic on the street and on the beach, ideal for those who want to relax without giving up the fun!
Hotel Ombretta Mare
offers
you
entrance to the theme parks of the Riviera at RATES with SUPER DISCOUNT!
OFFER
All Inclusive Formula (7 nights - 8 days)
from 30/08 to 06/09 € 413.00
from 06/09 to 13/09 € 371.00
OFFER
Formula Mare (7 nights - 8 days)
from 30/08 to 06/09 € 364.00
from 06/09 to 13/09 € 322.00
ALL INCLUSIVE
OFFER
STAYS
include:
Full board
Meal drinks (water, wine, cola and orange juice)
Air conditioning
Wifi
Secure parking
Beach service : umbrella and 2 sunbeds on the beach (per room)
Entrance to Waterslides and Swimming pool on the beach
The
SEA FORMULA
OFFER stays include:
Full board + water included with meals
Beach service : umbrella and 2 sunbeds on the beach (per room)
Enter the water parks with swimming pools and waterslides
For all Animation during the whole day both on the beach and in the Hotel for adults and children!SPECIAL CHILDREN - FREE UP TO 6 YEARS !!! (week 6-13 September)FAMILY PLAN 2 adults + 2 children = pay only 3DISCOUNTED RATES ENTRIES in agreement with all the Amusement Parks of the Riviera:
Mirabilandia, Fiabilandia
(a few meters from the hotel)
Oltremare Imax, Italy in Miniature and Cattolica Aquarium
DO NOT MISS THIS OPPORTUNITY, THE OFFER IS LIMITED!Call us and we will immediately get you a quote

Hotel Ombretta Mare
Tel. +39 0541/373009
Fax +39 0541/480639
email: info@hotelombrettamare.it
Ask for information
Further offers from this hotel