Hotel Ombretta Mare
Via Rapallo, 17 - Marebello
Services:
All inclusive
Animation
Hotel Ombretta Mare
Book early and save your summer on the Riviera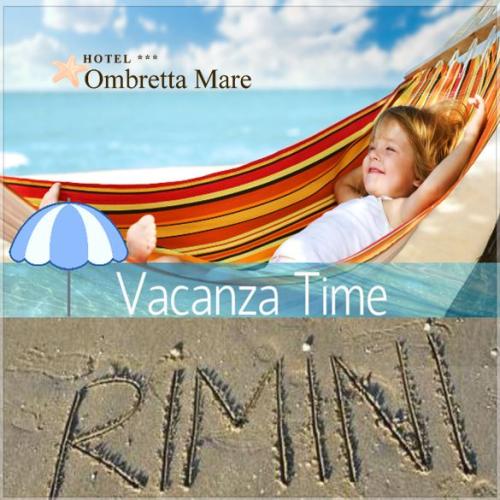 It is time to think about holidays
The earlier you book ... the better accommodation!
PRICES LOCKED UNTIL 30 March 2020 (same prices as 2019)

By booking your holidays in advance you can take advantage of discounted rates and discounts on our weekly packages.

Special offers for Summer 2020, Family Stays, All Inclusive treatment all inclusive with Animation service and free entrance to the Water Parks with Pools and Water Slides
Our stay includes :
Full board
drinks with meals
4 menu choices with themed dinners
Appetizer
Independent air conditioning
Secure parking
Free Wi Fi
Bicycles
Children's play area
Water park with pools and slides free
Beach service : umbrella and 2 sunbeds on the beach (per room)
Pedalos, flies and free canoes
Animation in the Hotel with Baby Parking and Baby club
Animation on the beach
Evening entertainment
Excursions inland from Romagna
Tickets and transfer service to the Amusement Parks : Fiabilandia, Oltremare Imax, Italia in Miniatura, Aquafan, Mirabilandia and Cattolica Aquarium
Available for children cots with side rails, seats, strollers, play area, entertainer with baby parking at meals, flexible times for meals with baby menu and baby food preparation !!!
Rates
from 24/05 to 30/05 Formula Mare
from 31/05 to 06/06 Formula Mare
from 07/06 to 13/06 All Inclusive
from 14/06 to 20/06 All Inclusive
from 21/06 to 27/06 All Inclusive
from 28/06 to 01/08 All Inclusive
from 02/08 to 08/08 All Inclusive
from 09/08 to 15/08 All Inclusive
from 16/08 to 22/08 All Inclusive
from 23/08 to 29/08 All Inclusive
from 30/08 to 05/09 All Inclusive
from 06/09 to 13/09 Formula Mare


€ 332.00 child free up to 6 years
€ 360.00 child free up to 6 years
€ 378.00
€ 413.00
€ 413.00
€ 469.00 limited offer
€ 525.00
€ 616.00
€ 553.00
€ 455.00 limited offer
€ 413.00
€ 371.00 child free up to 6 years
The Sea Formula includes: Full board with water at meals + Beach Service : umbrella and 2 sun beds on the beach (per room)
The All Inclusive Formula includes: Full Board + Air conditioning + drinks at meals (water, wine, cola and orange soda) + Secure parking + Beach Service : umbrella and 2 beds on the beach (per room)
CONTACT US FOR A QUOTE!
LIMITED AVAILABILITY
Hotel Ombretta Mare
Tel. +39 0541/373009
Fax +39 0541/480639
E-mail: info@hotelombrettamare.it
Ask for information
Further offers from this hotel